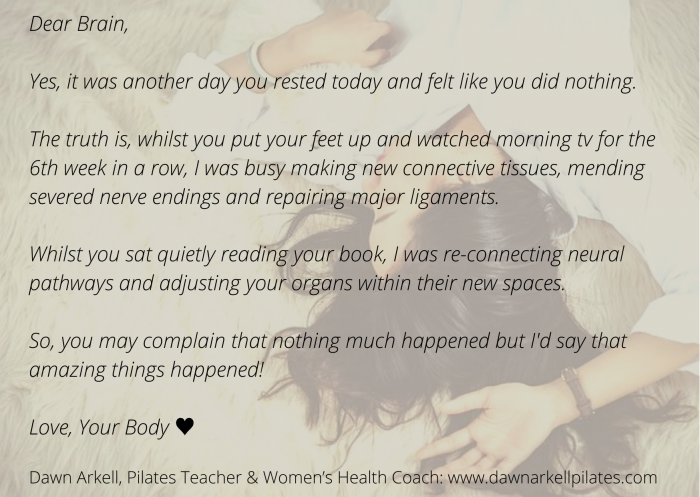 I spotted this wonderful letter on social media by Dawn Arkell, a Pilates Teacher and Women's Health Coach.

She wrote it whilst recovering from big surgery. I thought it so very beautifully, succinctly and gracefully described something that I often try to communicate that I got in touch and she has kindly let me share it.

Thank you Dawn.

Listen to your body!
I have many, many conversations with my clients, (as well as with my friends and even myself!), about how as humans we rarely give ourselves enough time to recover from anything. It might be simply a long tiring day, a headache or a simple cold, it might be flu or the dreaded covid, it might be minor or major surgery or the ravages of grief and emotional trauma. Almost always we push ourselves to do too much too soon.

It is common to find people in the wellbeing industry talking about the importance of 'listening to our bodies'. It sounds so wonderfully simple and enduringly sensible. Easy, right?

What it fails to take into account, in its instruction, is that we are more than just a body...