Meditation Classes
Drop in Meditation Classes
There is no need to book for these classes; simply turn up and sit on the floor or a chair for some relaxation and energy refreshment. Everyone is welcome; complete beginners and those with a regular practice! These sessions aim to take the mystery out of meditation and combine learning specific meditation practices, guided visualisation and periods of quiet for self-guided meditation. There are many reported health benefits associated with meditation and meditating in a group can help focus and concentration.

Tuesday Lunchtime: 1.00-1.30pm, every week in school term time. £6 per class and every sixth class is free with the lunchtime loyalty card scheme.

Please note: both these classes are now held at Karen's practice at The Therapy Centre, which is at 57 Winchester Street in Salisbury.
See the Events page for class dates.
A new class is planned for Thursday evenings at 6.00pm. Please get in touch to register your interest. You will need to book in advance for this class.
Relaxation and Individual Meditation
Karen can arrange relaxation sessions aimed at reducing stress and promoting wellbeing with individuals, groups or in the workplace. This is a great way to learn where you hold tension in your body and how to deal more effectively with challenges in your day to day life. Please get in touch to discuss your requirements.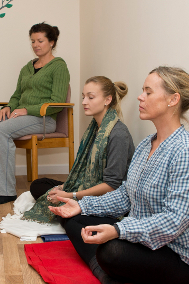 "As soon as I walk into the beautiful and tranquil candlelit space Karen provides for her meditation I feel my whole body relax. The guided meditations calm my busy mind and when I leave all the stresses and worries from my day have dissolved and my perspective is more positive, peaceful and clear."
(Sara, 36)