Information for coming to appointments during the pandemic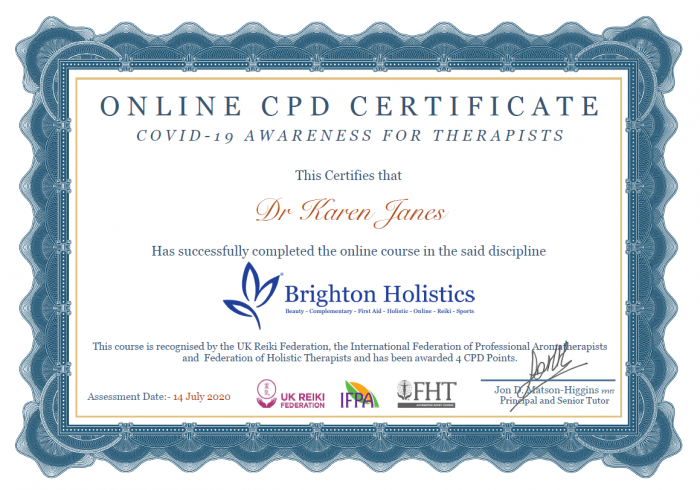 As with all other businesses I have made some changes to how I operate.

Please read this information before coming to your appointment and please don't hesitate to get in touch if you have any questions or concerns.
Things you need to know when coming for an appointment
-You will receive a reminder email a few hours before your appointment asking you to confirm that you don't have any COVID-19 symptoms. Please reply to this as soon as possible, (before you come in), as I am legally required to collect this for each person at each appointment. If you do have any symptoms, or have been in contact with anyone who has symptoms or has tested positive, please let me know as soon as possible and we will re-schedule your appointment.

-Now that shielding has officially ended it is up to you if you feel comfortable coming in if you are in a vulnerable group, or living with someone in that group. Please rest assured that I am doing all I can to minimise any risk and I am continuing to offer online sessions if you need some help and support but prefer not to come in at the moment.

-Unless required for support please do not bring anyone with you to your appointment.

-Please travel light and leave any extra baggage at home.

-Upon arrival please use the hand sanitiser, (outside at The Old School House and in reception at The Therapy Centre). I will come and collect your from outside at the time of your appointment.

-You will need to wear a mask throughout your time at either of my practices. I have some complementary disposable face masks if you don't have one.

-I am not able to offer you refreshments at the moment so please bring your own water bottle with you.

-The toilets will be available to use.

-Please don't arrive early for your appointment as we don't have facilities for you to wait and it is important that we keep traffic in the corridors and entrances to a minimum.

-If you are late to your appointment you may have to wait to come in and your appointment time will not be able to be extended.

-Blankets won't be available so please ensure you wear appropriate clothing to be comfortable during your session.

-For new clients I will arrange a time for a short phone consultation (15-20 minutes) before your session. This is to take your contact details, basic health information and to find out about what you are looking for help with. Previously an initial session was longer than an hour to allow time for this. I am now doing this part on the phone because I am running to a stricter time schedule and it means there will be more time for the treatment during your session. There is no extra charge for this.
Changes to Payments and Cancellation Policy
-I am now asking everyone to pay for their appointment when booking. Appointment times will only be held for 48-hours without payment. I have a new online booking and payment system that enables you to pay when you book.

-I have increased my cancellation period from 24 to 48 hours. Your session will now be charged at the full price if you don't give at least 48-hours notice. Payment for sessions cancelled due to the unexpected onset of COVID-19 symptoms will be carried forward to your next appointment.

-Please pay by bank transfer if possible, I can send you the payment details. If you are unable to do internet banking I can take card details over the phone or send you a card payment link or you can click the link to 'pay now' if you book online or in your appointment confirmation email if I book you in.

-It has been several years since I have increased my prices. I was in the process of implementing my new pricing at the beginning of the year but some existing clients were still on my old pricing. I have taken the decision, particularly given the extra measures in place (equipment required, time for cleaning, increase in running costs etc), to move everyone onto the new pricing as I re-open. All current prices can be found on the Prices Page.

-If you have a gift voucher or had some sessions left from a block booking I will honour these.

-I appreciate this is a really challenging time for people financially. If you have concerns about the new pricing please speak to me.
Other things I have done to make the premises Covid-Secure
-Along with the measures mentioned above the following have been done at both my practices:

-I have completed a thorough risk assessment and implemented changes where necessary.

-At The Therapy Centre we are staggering appointment times across the three treatment rooms to reduce contact in the corridors and reception area.

-We have reduced the amount of staff on site as much as possible.

-All communal areas and the treatment rooms will be cleaned after each person has visited.

-We will minimise the contact you have with door handles and other potential frequent touch surfaces as far as possible.

-Couch coverings and pillow cases used in appointments will only be used for your session before being removed and washed.

-I will be wearing a face covering (mask) and visor. I will be washing my hands even more frequently than usual and using hand sanitiser in the treatment room.

-The wider premises will be cleaned thoroughly at the end of each day.

-Please ask if you would like to view my risk assessment or other COVID procedures.
A bit more about face coverings/masks
-Due to the nature of the treatments we are not always able to always ensure a suitable distance. Although they do not stop you getting the virus if everyone coming into the premises wears a mask we will greatly reduce the chances of people passing it on to others and help to keep everyone safe. If you refuse to wear a mask we cannot do the appointment at the current time.

-You can bring your own mask or a complimentary disposable one will be provided.



Thank you very much for taking the time to read this and for all your help in implementing these new and important procedures.
I will do all I can to make you feel welcome and comfortable whenever you visit either of my premises.
I look forward to seeing you very soon.
Dr Karen Janes ©
19/07/2020.
Updated: 04/09/2020